If we were to explain in simple words, what Digital Signage is, we could start by saying that Digital Signage is a digital signage system with the aim of communicating images and messages in a visible and effective way. We are talking about all those screens that are commonly seen in train stations, airports, post office or, similarly, the large Led Wall advertising the trendy perfume on the main street of your city.
On the other hand, if we want to give a slightly more academic and correct definition of it, we could specify that Digital Signage is a form of visual communication that consists of "communicate and inform through multimedia contents displayed on luminous screens placed in strategic and most frequented places".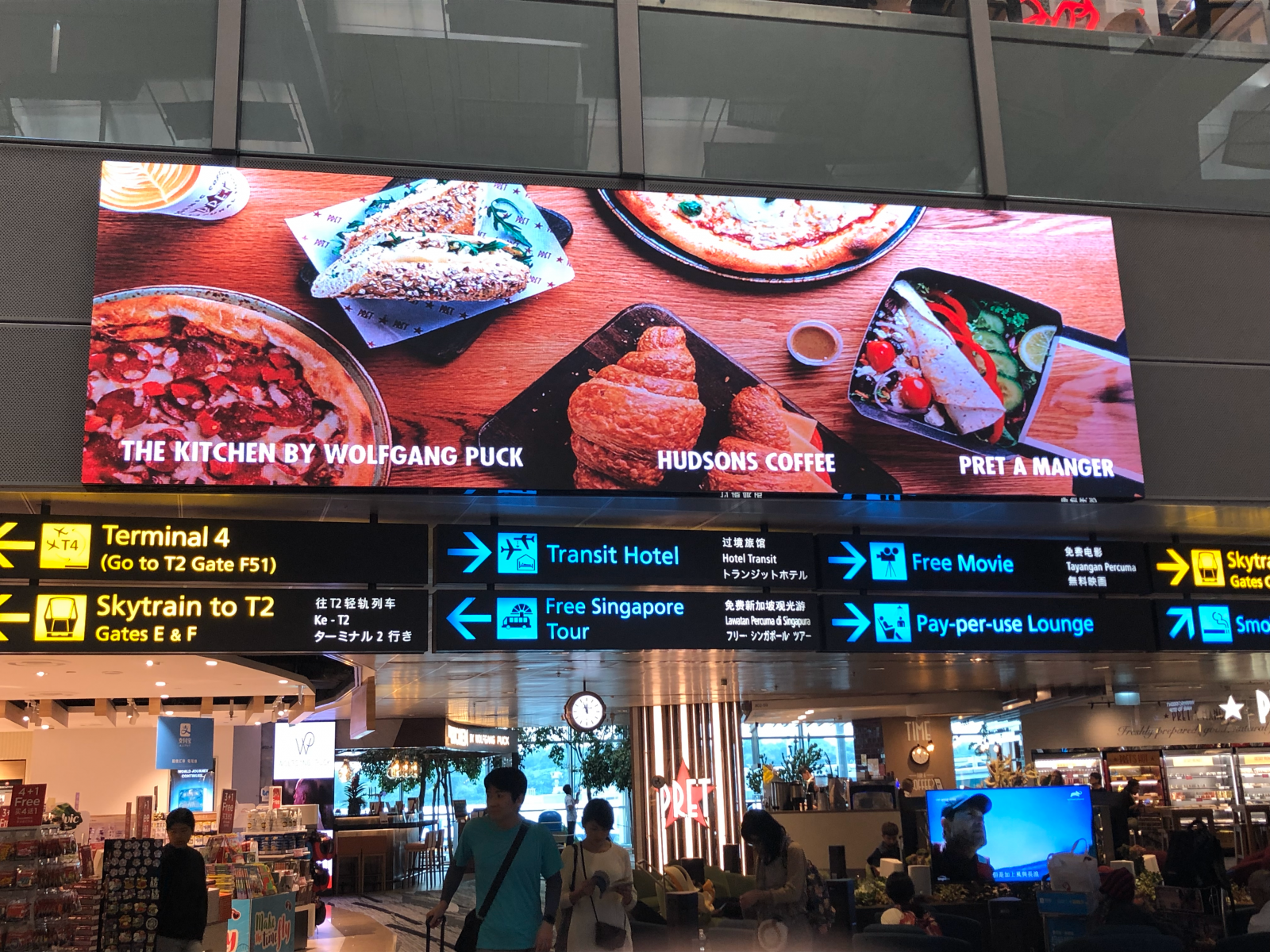 The billboard: where it all began...
On a closer inspection, forms of graphic display have always existed since the days of large paper billboards on the sidewalks of the ring roads. Over the years then, as a more advanced form of the same application, in the past we saw mechanical systems capable of changing up to two or three timed messages, then video screens with completely digital technology. Nowadays LCD (for small formats) and LED technologies are certainly the most used. Digital Signage as we understand it today is therefore nothing more than an evolved form of these communication systems that thanks to modern technologies offers an effectiveness and a flexibility unrivaled to this day.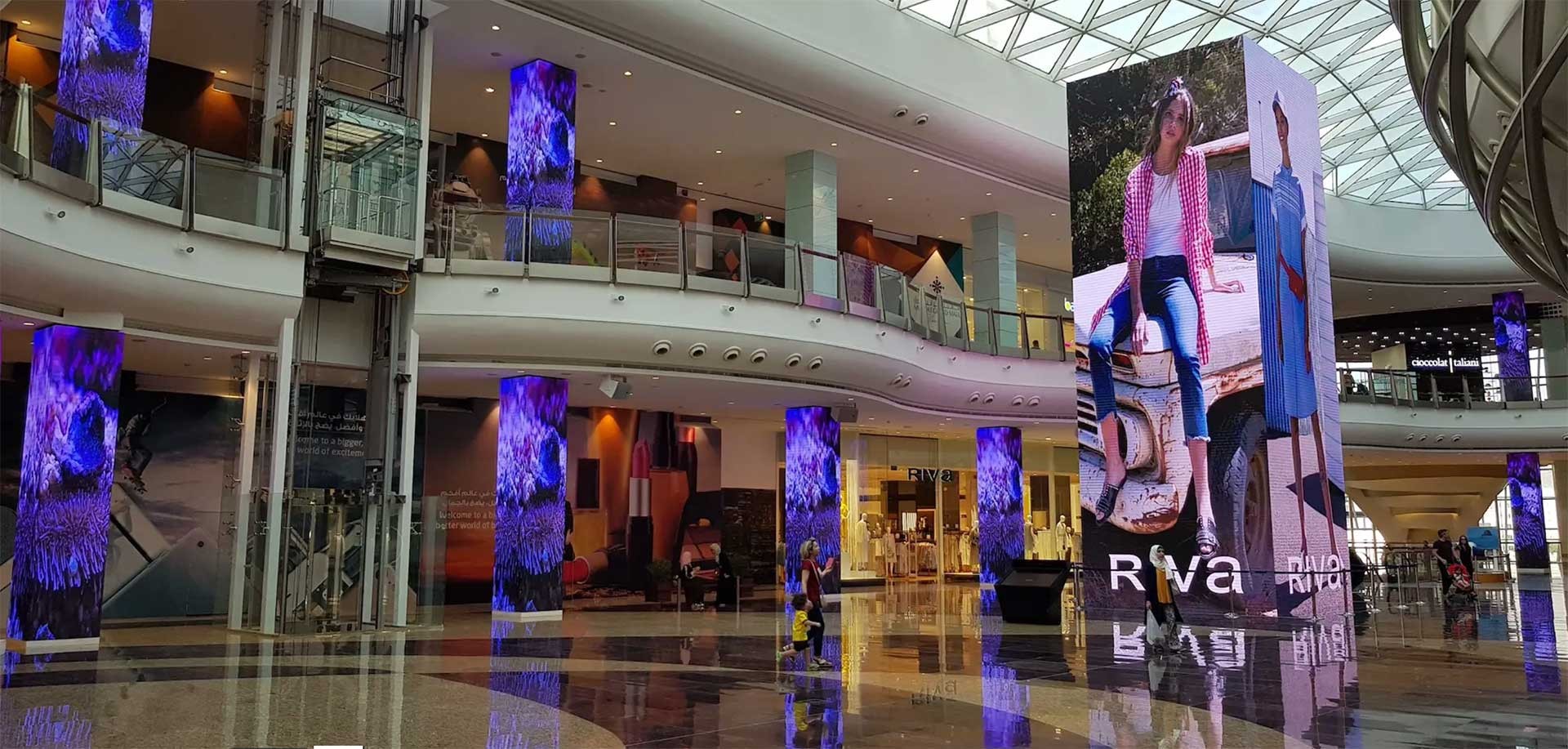 What we need: from hardware to software
Basically, to create a simple or complex system for Digital Signage we need the following elements:
A software to create contents
A player that streams the contents on the monitor.
One or more screens to make the images visible and the messages usable by the public.
Concerning the hardware the system consists of one or more monitors networked through a media player which transmits the video data stream through a cable connection (with the classic CAT-5), or through a wireless system. The media player is the "core" of the system and is able to manage - and sometimes host on a local or remote hard disk - the contents that are then displayed on the screens. The most used types of monitors are without any doubt:
wall-mounted
ceiling-mounted
totem
interactive tables
smart showcases
smartphones and tablets.
The software part, on the other hand, is entrusted to Visual Content Management which are applications or programs that run on a PC/Mac or App that can manage and often even create content as well as program playback on various local and remote devices. These devices can be managed on the network.
The increase in power in terms of quantity of data and network reliability in recent years has allowed these applications to become more and more flexible with the possibility of being managed remotely by both specialized companies and non-specialized personnel, through simplified and intuitive interfaces.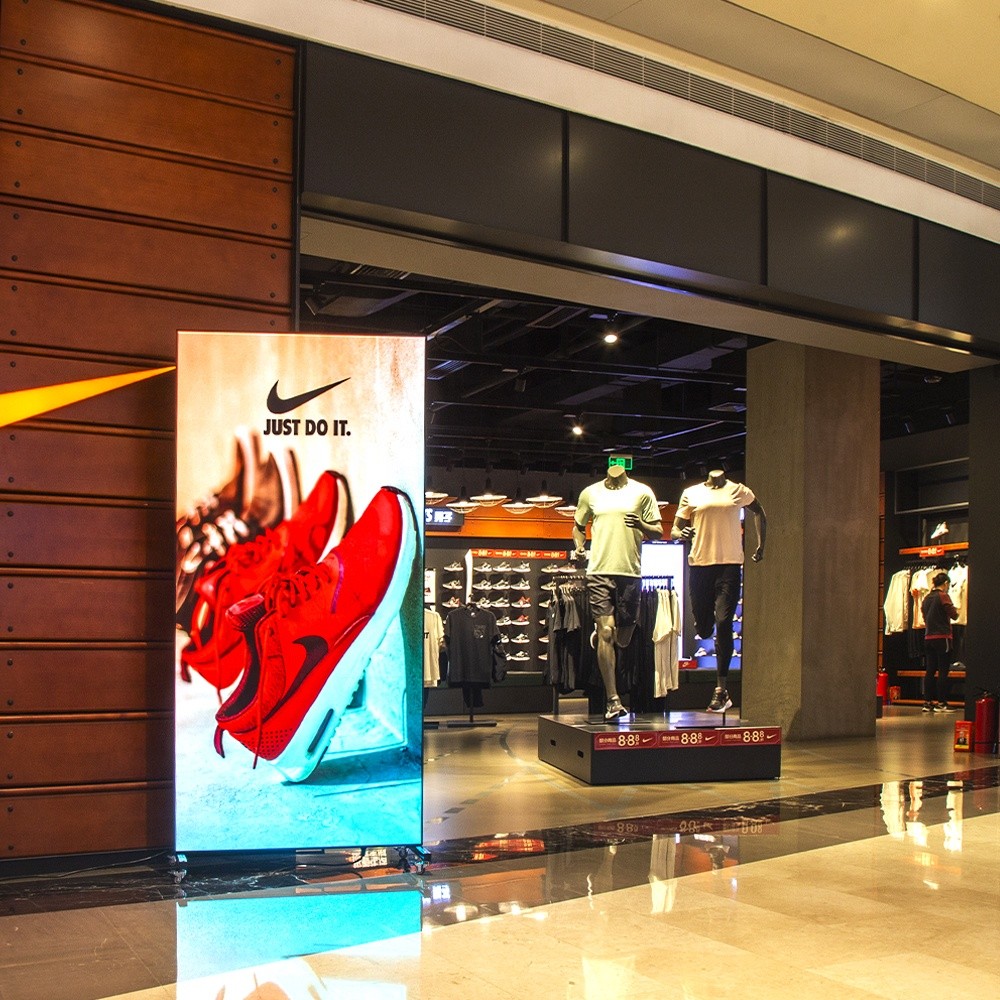 The display: how to choose the right one
The display, of any shape or size, is as we have guessed the final interface with the public. Its choice is therefore of strategic importance for the effectiveness of the project itself. The first characteristic of a display is the resolution of the screen which is expressed in number of pixels. By now almost all monitors are in Full HD (1,920 x 1,080 pixels), then we have UHD (Ultra-HD), 4K, 8K etc. etc. Resolution clearly depends on the size of the screen and above all on the distance and, in some cases, on the place where it is installed. Certainly suitable resolutions for any Digital Signage application are from the HD format to go up, trying to choose the higher ones in places where the quality of the video product must be higher (fashionable shop windows, luxury market, elegant clubs).
Another important feature is the brightness (from 350 cd/m2 up to 700 and above), which is the light emitted by the screen. If the screen is placed in a place full of natural light, such as a shop window, then a strong brightness is required which will allow the image to be displayed correctly. Another parameter to be evaluated in order to make a message displayed on a display intelligible is the degree of reflection, called Haze level: the higher it is, the better the performance of the monitor in the presence of reflections caused by artificial lights at night.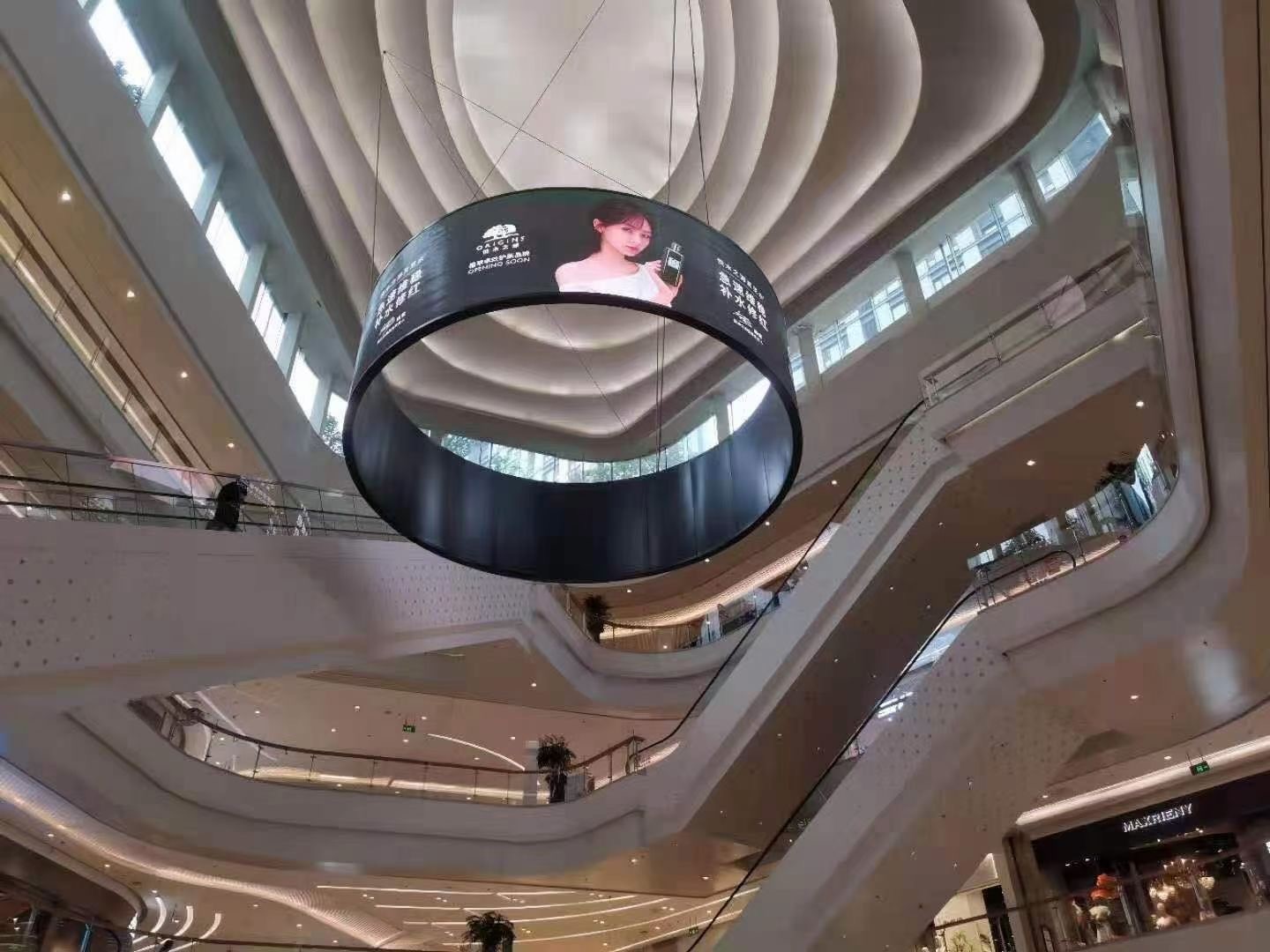 The benefits of Digital Signage
Whether it is large Led Walls in an airport, in a shopping center, or a series of smaller screens dedicated to signage and the management of people flows - or even a single monitor dedicated to the shop or restaurant - the benefits of displaying images, messages and information on a screen capable of changing programs indefinitely and in a totally flexible way are infinite.
Why should I use a digital signage screen?
If this is the question and you are wondering why your restaurant or your local or your business should install a Digital Signage system, you should already have guessed the answer.
advertising aspects: you can view commercial offers, featured products, prices, menus, timetables, shifts on the screens...
information/logistical aspects: you can insert messages relating to the regulation of the flow of people such as entry/exit, warning messages (even trivially wet floor...), loss of objects and people, indication with animated arrows or access limitation, queue management...
Real time feed: interaction with all social media, viewing the activities of users and followers.
Interactive element: if you have a Touch Screen monitor you can make it interactive with the public, for example to search and ask for information (virtual map), interact to buy tickets or book products...
A technology within everyone's reach
We from Helvia System we asked ourselves what could hold back the Italian user, from small to large customers, in using this technology for their own activities, given that in Italy, somewhat surprisingly, we are still slightly behind... The difficulty of installation and use?
Absolutely no! The installation requires a professional figure (or a company for larger and more complex installations) but it certainly does not represent anything complicated or "esoteric". The technologies used have been known and used for years and the implementation is relatively simple. The purchase and operating cost?
Again, it is not the cost that is a real deterrent. To date, LED screens, both Touch and not, have reached very reasonable prices and offer resolutions and quality that are more than good for the everyday use. Even the rest of the hardware and technology used, if chosen wisely and if it is well thought out and integrated, represents an absolutely and sustainable investment, especially in consideration of the enormous advantages.
Same thing goes for running costs...
Why is 2022 the right year to invest in Digital Signage?
The analysts of Markets and Markets already predicted last year how the global digital signage market will see an average growth of 8.18% every year, reaching over 23 billion dollars already in the first months of 2022.
The social distancing has then accustomed us to new rules, some of which will probably remain in the future.
Clear and functional indications for managing flows of people and alerting the public and customers are and will be among the most important resources for commercial activities, both large and small (world of transport, hotels, restaurants, spas, shopping centers, pharmacies, shops in general...).
RRP and recovery fund: a train to catch!
In the RRP (Recovery and Resilience Plan) are clearly indicated urgent measures such as digitization, innovation, competitiveness and culture (to which 40.32 billion are allocated), the green revolution and ecological transition (59.47 billion), infrastructures for a sustainable mobility (25.40 billion, education and research (30.88 billion).
In each of these contexts, above all in relation to an urgent and necessary technological update, it is possible to see the important role that Digital Signage can play as it fits into many of the categories mentioned.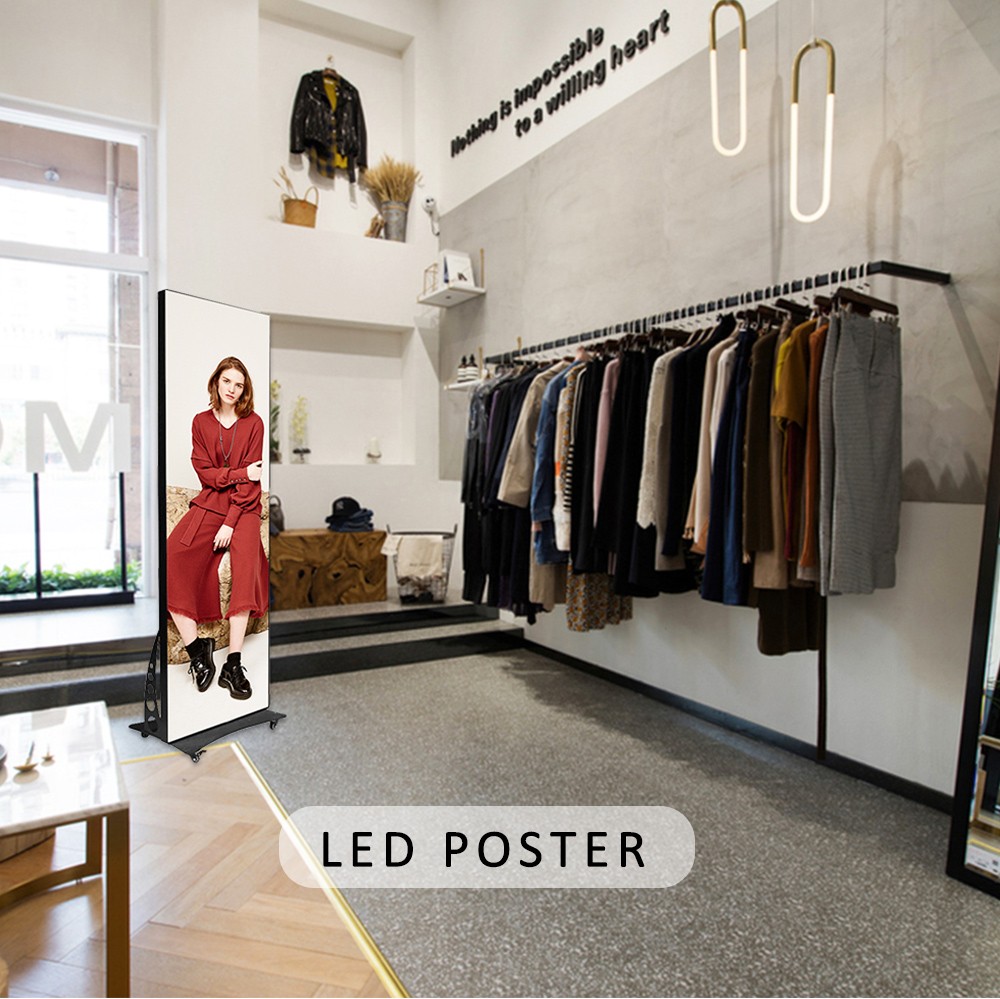 Helvia solutions
Once again Helvia offers "turnkey" solutions with a series of benefits that only a brand that belongs to a company like Frenexport can guarantee:
complete and truly integrated solution
all the necessary hardware and software
support from the design phase to implementation (thanks to reliable and precise technical partners)
after-sales and continuous updating of products and technologies
cost optimization and tailor-made offers
Contact us through our social channels or at the addresses indicated on our website. Our experts will be at your complete disposal in order to identify the right solutions and products for your Digital Signage system.
Contact us now: info@helviasystem.com

Provided by Encore Agency